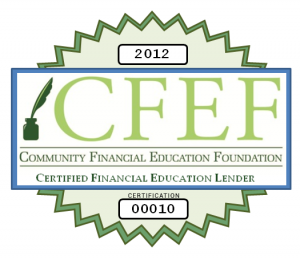 Preparing to ace your CFPB exam? This credential can help!
Community Financial Education Foundation, a foundation focused solely on consumer financial education, has developed a certification program specifically for financial service companies/lenders.CFEF wants to help companies to signal to regulators and consumers that their company is responsible, principled and transparent –in product descriptions, terms, and the small print.
A Certified Financial Education Lender designation tells the world that a company has met that goal. This certification, displayed on a company's website, will be an immediate indication to customers and regulators that they maintain a conscientious level of consumer education on their websites and in their transactions, and a commitment to the goals of consumer awareness. CFEF will maintain a list on its website of those who have achieved the designation.
CFEF is unbiased in its approach and is committed to the principles of full disclosure, transparency, and, above all, consumer financial education.
Certification employs both a self-assessment, and an external Board Review assessment. While the Certification is not the only avenue to customer assurance of sound lending principles on behalf of the consumer, it is a visible signal that is immediately recognizable. Click here to see program details.
For more information, contact CFEF @ 202-997-8785, or jane.demarines@communityfef.org.
---
About Community Financial Education Foundation (CFEF)
:
CFEF's mission is to educate the American public and reach underserved communities by teaching meaningful financial life skills, encouraging positive financial behaviors, and providing access to outcome-based, educational resources over the long-term. CFEF is the proud partner in creating MyStartingPoint, a new-age online, interactive, financial education tool being used by Bank-on DC, and 11,000 users nationwide.